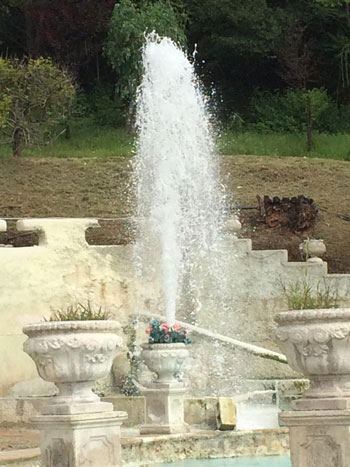 As you explore the natural lush grounds of the Terme Rosapepe, you discover the lively perpetual spring that has fed the pools and provided health benefits since the days of the Roman emperors. A tour with Rosapepe Retreats allows the guest the chance to partake of the restorative mineral baths, providing the respite and relaxation of which they have only dreamed.
The Terme Rosapepe health spa is built atop natural mineralized hot springs that have been attracting people since Roman times.
Heated by the molten core of the earth and laden with minerals, the waters of Terme Rosapepe hot springs emerge at a temperature of approximately 109 degrees Fahrenheit. These waters possess deeply rejuvenating properties, and the Terme Rosapepe baths are a place of refuge, reverence, healing, and contemplation.
Today, guests can experience a variety of health treatments including hydrotherapy, massage therapy, aromatherapy and many others. The hot thermal pool outside is continuously replenished by the underground springs.
The thermal baths, (described in the first century BC by Pliny the Elder) were described in a manuscript Balnea Contursi of 1231. The thermal springs of Contursi, with varying mineral content, have retained their curative reputation for bathing, both in warm pools and in a cold plunge, and for drinking.
The springs provide a continuous source of thermal water that is naturally rich in minerals. Recent analysis showed the water to be richer in carbon dioxide than other thermal waters, a feature that makes it particularly suitable for vascular conditions.
The thermal mud used is different in appearance and content from the traditional mud-gray clay, commonly used in other spas. It comes in a white mineral matrix and is used directly in the spa for therapeutic and cosmetic benefits.
Adjoining the spa is an equipped gym for fitness or sports rehabilitation.
The Spa Rosapepe has agreements with all local health departments of Italy.
Publications and Studies
www.termerosapepe.it/studi-scientifici/