Susan Rosapepe and Gerry Gaeta have partnered in Rosapepe Retreats, to share their love of Italy and their vast Italian experiences, with all travelers who join a tour with Rosapepe Retreats. They are excited to be able to offer a tour experience that not only showcases the culture and sites of Italy, but focuses on the Health and Wellness of each person on the tour. There will be daily opportunities for our guests to use the thermal baths and mud treatments to restore and refresh. Traveling with Susan and Gerry, you will be given singular attention, and experience a special personal tour of Italy and the Campania countryside as only a family member can give.
Susan Rosapepe – Founder – Rosapepe Retreats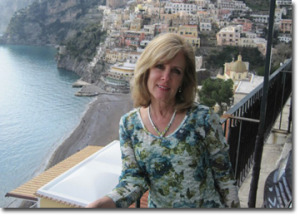 Susan founded Rosapepe Retreats to give the traveler the opportunity to improve their health and wellness along with enjoying unique Italian cultural activities. " In my many years of traveling, I have seen people get exhausted during their trips. They need a vacation from their vacation. I want my groups to "feel Italy, feel Great!". They will come away from the experience with Rosapepe Retreats being in better health and feeling refreshed and rejuvenated, physically, mentally and spiritually. "
Having parents in the Foreign Service for the US Dept of State, Susan Rosapepe has been traveling her entire life.
Beginning with a career in the medical industry, Susan travelled 4 to 5 times a week, thereby learning quickly how to negotiate the trials and tribulations of all things travel related – in particular, dealing successfully with the intricacies and frustrations of airlines and hotel situations.
Susan lived as an expat in Rome Italy for 4 years, and Mexico City, Mexico for 4 years and has embraced and immersed herself in every culture she has experienced.
She has traveled Europe, Scandinavia, Latin America, Africa , the Middle East, Australia, Cambodia and Thailand and understands intimately the experience of the tourist, and non-tourist alike.
In May, 2011, after years of negotiating the complex citizenship process, Susan was granted her Italian citizenship.
Susan has spent years accompanying friends and arranging travel for acquaintances to Italy. Her Italian experiences have become full and rich, her Italian contacts many, and her desire to help others see Italy through her eyes has grown.
Susan founded Rosapepe Retreats to fully introduce the traveler to the unique experience of feeling like everyone has family in Italy when they are visiting with Rosapepe Retreats.
Gerry Gaeta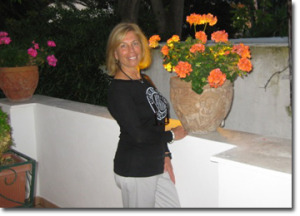 Gerry Gaeta resides in the New York Metropolitan area. As a graduate of The State University of New York at Stony Brook with a degree in Medical Technology, Gerry has been uniquely dedicated to the medical wellness field throughout her life.
After graduation, Gerry jumped head first into her health care journey taking her from the fast paced, demanding New York City  clinical hospital laboratory world to the  Global Corporate Bio Tech arena, always dedicated to improving other people's lives. This commitment has taken her throughout Europe, Africa, Scandinavia, Central America, Canada, Mexico, Caribbean and the South Pacific.
Of all the wonderful, exciting and enchanting regions traveled she somehow always returns to her "native roots" in Italy, where the  culture, food, people, scenery, and most of all, the balance of life's simple pleasures have made a life altering impact on her own personal well being.
Gerry and Susan crossed paths early in their corporate careers, each discovering their mutual love for Italy sharing their separate Italian adventures. Over the years this bond developed into the Rosapepe Retreats  business partnership of today.
With Gerry's first visit to The Grand Hotel Rosapepe, she immediately saw the benefit. "This is a place where ancient and therapeutic waters have been calming Italians since Roman's originally made this a holiday getaway. They came to experience the addicting yet enchanting warm spring effects on wellness."
Susan and Gerry have joined forces to create a week long life changing experience.  They have created a balance of day visits, wonderful local Italian food, caring people, and interesting evening speakers. Rosapepe Retreats will introduce you to a place creating a simple harmony and Italian wellness unlike anywhere else   "This is a very, special place and guaranteed to have you return many times to enjoy the natural waters of centuries gone by."